Update 8/17/22: Visible has simplified their pricing and eliminated the need to join a Party Pay group to get a discount. Sign up with this PayPal link and use my referral code 3MPT293 to pay $10 for your first month and then just $25/mo thereafter. You don't even need to pay with PayPal to get the discount but sometimes it stacks with Chase Freedom or Discover quarterly 5% cash back offers!
Staying connected while living on the road is critical. Of course you need your phone to stay in touch with friends and family, but you also need data for work, to use maps for navigation, to stream videos, and to research where you'll fill up your water next (sidenote – I think I need water). The challenge has been finding a way to get data on the road that doesn't cost a million dollars or limits you to just a couple TikTok videos a month. Well, enter Visible. Visible is a subsidiary of Verizon that offers some incredible value. Here's three reasons I switched my service over to Visible and maybe you should too.
1 – Verizon's Network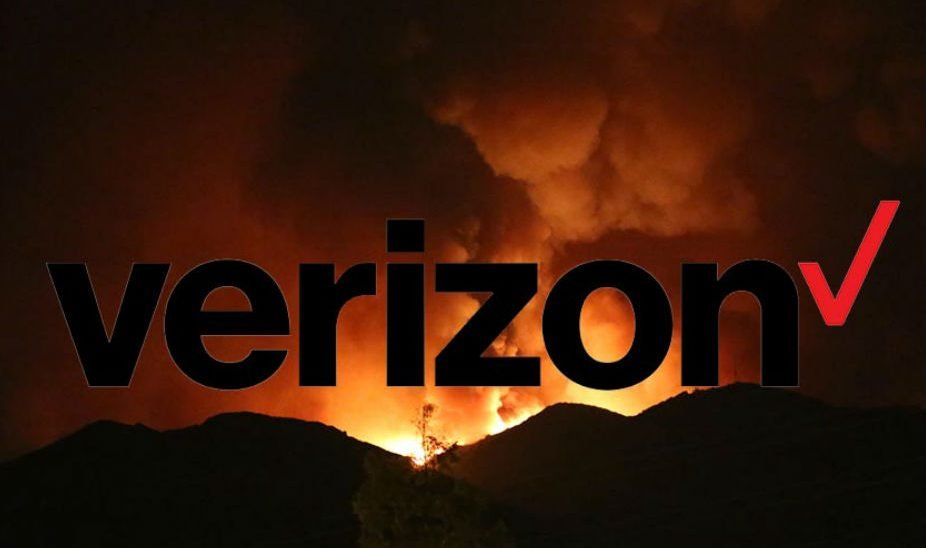 Although margins are getting slimmer, Verizon still reins king for network coverage in the US. While you won't have service on every back road or campsite, you will have a better shot at service than most. And even if Visible doesn't support roaming on other networks, you'll still have access to every Verizon tower out there. I've only been without service in a couple of remote, mountainous areas (I'm looking at you, Vermont). I have to admit, Verizon has lived up to the hype on coverage.
2 – Data, Data, Data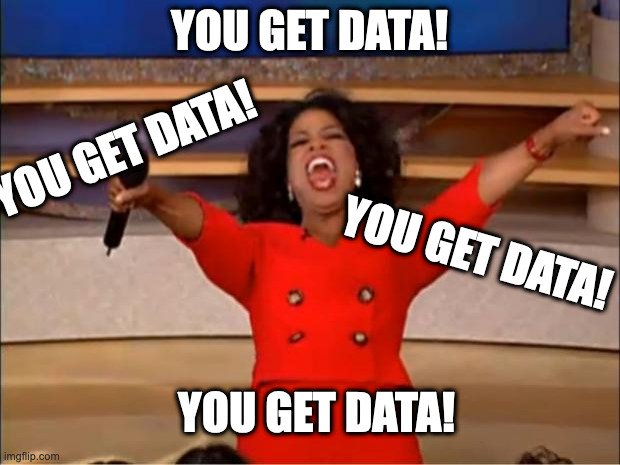 In addition to unlimited calls and texts, which is pretty standard these days, Visible offers unlimited data! For real. You can stream however much you need to without worrying about being cutoff or throttled down until your next month's service restarts. And while that's such a huge relief for me, it gets even better. For those of us that work off of our laptops, you can hotspot off your phone and access that same unlimited data. This is absolutely what sold me and as far as I can tell, no other carrier or MVNO offers this. Visible will supposedly cap your hotspot speeds to no more than 5Mbps, but in practice, I usually see speeds of 5-10Mbps, which is more than enough to work online, stream HD content and join video calls.
3 – It's Cheap (And Sometimes Free?!)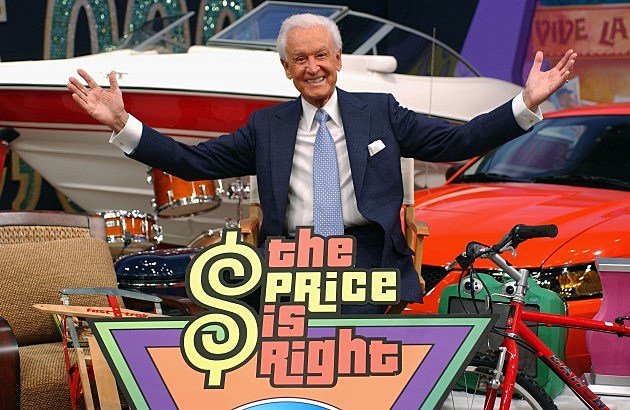 So what does Visible charge? $40/month. Not bad, right? But it gets better. If you join a "Party Pay" group of four or more people, the cost comes down to just $25/month. What's Party Pay? I guess it's like a family plan but with strangers. Whatever it is, you're only responsible for your own bill, no one has access to your account, and no one can alter your account in any way. The easiest Party Pay group to join is "Reddit_Upvote" with tens of thousands of members. 
So $25 is super cool and all, but there are ways to get this price even lower. First, referrals. If someone signs up using your link (here's mine!), you'll both get $20 off a month of service, so it's only $5 for that month. Second, check your Chase or Bank of America credit cards for a $25 off Visible offer like the one below. Despite the terms saying it's for new customers only, I've successfully used this 2x on an existing account. That's two months of service for $free. Third, Paypal has also run offers for $5 off – so that's worth checking too.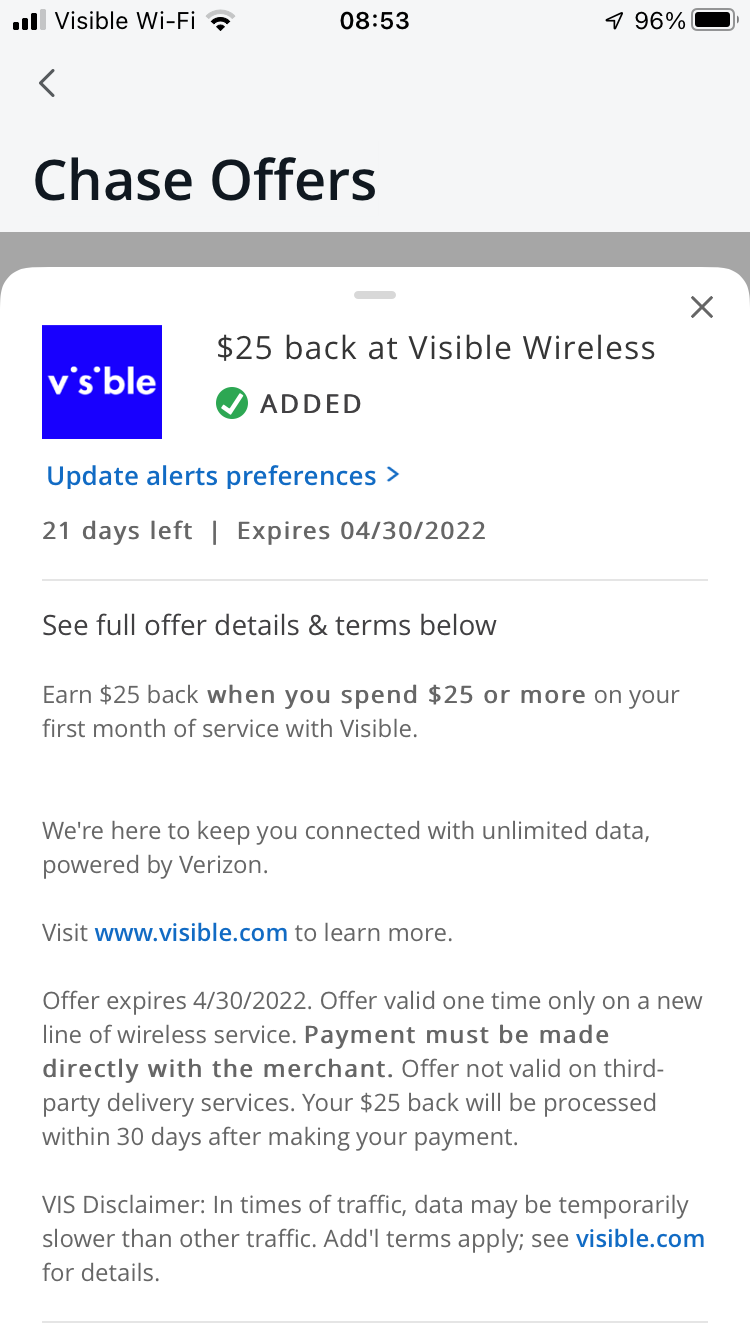 But There's Gotta Be a Catch, Right?
So there's no "gotcha!"s with Visible, but there are three very important things to be aware of. First, all Visible data traffic takes a backseat to other Verizon customers (not phone or SMS though), so if you're in an area where a lot of Verizon subscribers are all trying to use the network simultaneously, you'll see a slowdown in speeds and it can range from a little slower to brutally slow. I've only experienced this a couple of times in urban areas and at specific times, like 5-7pm, so it really hasn't been a problem for me. I've been averaging speeds of 30+Mbps down and 5+Mbps up. Second, there's no phone-based customer service – everything is handled over chat or Twitter DMs. That might be a non-starter for some folks. Lastly, Visible's backend is built on a cloud-based infrastructure* which can glitch out from time to time and does have high latency. If you notice an issue, just toggle your phone into Airplane Mode for 30 seconds (or give it a restart). That's fixed every issue I've had.
*my theory is that Visible is basically a skunkworks for Verizon to work out the bugs on their future infrastructure and kinda smart IMO
So, Want to Give it a Try?
Commitment level: zero. If your phone supports eSIM, Visible lets you trial their service for free for 15-days using a throwaway number. And if your phone doesn't support eSIM, then sign up using my referral and try it out for a month for just $5 (I'll get $20 off my service for a month too!). If the service and coverage work well for you, then port your existing number over to Visible. Easy peasy. I've been using it for the past three months and am pretty stoked on the value. If it doesn't work for you, there's no contract! You can just port your number to another carrier. 
Final Thoughts
To avoid some common headaches and ensure you have the best experience possible with Visible, you'll want a carrier-unlocked phone that can spread your traffic across as many of Verizon's 4G LTE bands as possible, specifically bands 2, 4, 5, 13, 46, 48, 66 (source). Even better, get a phone that supports 5G if it's in the budget. My iPhone SE 2020 has been great so far, but I'll be looking for a Black Friday deal on a 5G phone this year to get even faster speeds.